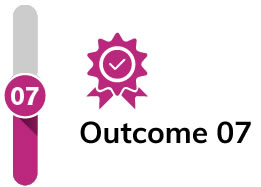 Public asset condition and performance is improved through more effective whole-estate management and maintenance
Over the past 12 months, we led on the development of a New Frontiers for Smarter Working Model that will support organisations understand how work will be delivered in the future
Over 100,000 children are now benefiting from new learning environments delivered through the SFT-managed Scotland's Schools for the Future programme and over 8,000 people are benefiting from new homes as a result of infrastructure investment programmes involving SFT
Our Operational Contract Management team produced operational guidance that ultimately assisted in the ongoing delivery of public services from PPP buildings during the year despite the ongoing pandemic
As the days turned into weeks following the outbreak of COVID-19, many people quickly realised they could work just as effectively from home, and businesses, organisations and individuals started to question how work and the workplace could be organised in the future.
For nearly ten years our Asset Strategy team has been at the heart of transforming how the public sector estate operates across Scotland.
The pandemic provided our Asset Strategy team with an opportunity to undertake a further leadership role to understand the potential impact of the emerging situation. As a result, the team established a Smarter Working Group, that led to the team publishing its New Frontiers for Smarter Working Report in March 2021. It is now being referenced as one of the 'go to guides' for public sector organisations.
In a similar vein, when the national lockdown was announced, our Operational Contract Management team drafted, produced and issued guidance on how PPP contracts should be operated in the light of the pandemic. The operational guidance produced by the team ultimately assisted in the ongoing delivery of public services from PPP buildings during the year.
The impact of our work alongside that of our partners in this area, is further illustrated through this selection of case studies.