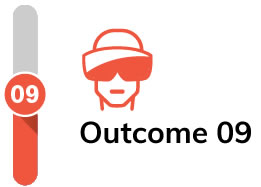 We have innovative technology-enabled construction, asset management and usage optimisation at a place, portfolio, and network level as well as for individual assets
Through our infrastructure technology work, £1.3bn worth of projects either in development or operation have implemented BIM, delivering a return on investment of £10m during the design and construction phase
Scotland's infrastructure continues to move at pace in becoming more digitally enabled. Technology and the management of information are seen as a key mechanism for the public sector to secure improved performance in how we plan, invest, deliver and manage our infrastructure.
In carrying out research on completed construction projects, our Infrastructure Technology team discovered that in many cases missing or mis-placed handover information on new public sector projects led to common problems and harmful impacts.
In devising a solution, SFT's team developed and agreed a number of target outcomes and working closely with stakeholders developed and delivered a new set of coordinated resources to enable clients to consistently specify their information handover requirements at the project outset, in alignment with current industry standards and best practice guidance.
Separately, during 2020, the team partnered with The City of Edinburgh Council and Queensferry High School, to develop a virtual reality model of Queensferry High School to assist pupils familiarise themselves with the school.
The SFT team led the development of the idea and created the project by bringing together key project partners and developed national guidance using its InfraTech Navigator, that is used to support Scotland's public sector implement technology that improves infrastructure performance. Such has been the success of the virtual that it has now been adopted by multiple councils and within many schools across Scotland.
The impact of our work alongside that of our partners in this area, is further illustrated through this selection of case studies.