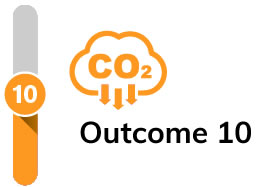 Infrastructure-related carbon dioxide and other greenhouse gas emissions are reduced, supporting Scotland's transition to a low carbon economy
Across our infrastructure programmes, there will be a 500,000 tonne reduction in CO2 emissions by the end of this Corporate Plan period
£34m worth of capital investment in energy efficiency measures resulting in almost £6m/annum saving in energy costs
Our focus is to support Scotland reach its net zero ambition. Not only does our work generate cost and carbon savings, but it also supports local economic development and improves the quality of public buildings and assets.
Scottish Government's Programme for Government clearly sets out its commitment to raising the country's decarbonisation ambition in light of the climate emergency we face and we are working in areas to driving change, focusing on some of the key areas where we can make a real difference.
In searching for ways to improve the energy performance of Scotland's public buildings, our Net Zero team established a Steering Group, bringing in representatives from multiple stakeholders to develop an approach that would tackle the issue.
After much work, a draft Net Zero Public Sector Buildings Standard was presented to Scottish Government who duly adopted it in March 2021, providing the public sector with a framework to achieve exceptional energy and environmental performance in their new build and major refurbishment construction projects.
The impact of our work alongside that of our partners in this area, is further illustrated through this selection of case studies.