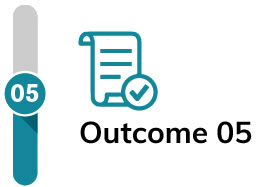 Programme and project procurement and delivery is effective, with highly skilled teams deployed where they are needed
We completed the £1.8bn Scotland's Schools for the Future Programme with 117 new schools open
Supported the rephasing of the Early Learning and Childcare Expansion Programme as a result of the COVID-19 pandemic
Continued to support public bodies in the early stages of challenging projects, helping to improve their approach, and set projects up for success
In April 2021, Lossiemouth High School, the 117th and final school in the SFT-managed Scotland's Schools for the Future programme was handed over to Moray Council marking over £1.8bn of investment in Scotland's school estate. Using a Develop, Demonstrate and Disseminate approach, our Learning Estate Infrastructure team supported and challenged all Scotland's 32 local authorities and their private sector delivery partners with the design and development across all 117 new or refurbished schools.
And building on the success of the Scotland's Schools for the Future programme, our Learning Estate Infrastructure team was asked to support Scottish Government and all 32 local authorities to support the development of local Early Learning and Childcare expansion plans and the infrastructure needed to support the programme of increased provision to 1,140 hours. Despite the pandemic, and thanks to the collective efforts of all public bodies and our Learning Estate Infrastructure team, as of April 2021, around 70% of projects were complete and 72% of children were able to access their full expanded hours entitlement four months ahead of the revised statutory entitlement date.
Further illustrating our expertise in project procurement and delivery, with the onset of the COVID-19 pandemic in March 2020, this provided our hub programme with the opportunity to clearly demonstrate the benefits of even greater collaborative working and for the hub Programme to showcase what best practice partnership working looked like.
With 46 community infrastructure projects in construction, when Scottish Government announced an industry-wide lock down, in liaison with Scottish construction sector leaders, SFT and the hub Programme team led on the development of a series of Scottish Procurement Policy Notes and the drafting and publication of Scotland's Construction Restart Guidance Note. In helping to define Scottish Government's approach to COVID-19, these documents provided clear and concise management guidance to the public sector.
The impact of our work alongside that of our partners in this area, is further illustrated through this selection of case studies.