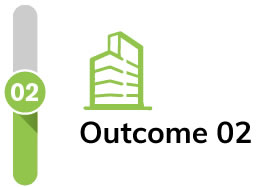 There is improved coherence, pace and placemaking across major private commercial, industrial and housing development
Through our programmes, £2.4bn of investment in private sector development has been unlocked, much of it in areas where regeneration, typically through leveraged public investment, is creating new opportunities for economic activity or meeting new levels and types of housing demand
Over the past 12 months, we have continued to work with many public and private sector partners to unlock significant levels of investment in private sector development.
Much of this investment has been in areas where regeneration, typically through leveraged public investment, is creating new opportunities for economic activity or meeting new levels and types of housing demand.
For example, our Land team has worked with partners to develop a masterplan that would contribute significantly to the context of community and place for the vacant Victoria Infirmary site in Glasgow seeing it redeveloped for 440 homes generating circa £50m of GVA) through direct construction spend supporting approximately 350 jobs.
In addition, our hub team worked with West Dunbartonshire Council to develop a strategy of relocating its operational offices from the outskirts of Dumbarton to a number of town centre locations, one of which had remained derelict for over 45 years. The transformation of the derelict building has been pivotal in regenerating the town centre, bringing about a place-focused investment strategy to deliver positive change.
The impact of our work alongside that of our partners in this area, is further illustrated through this selection of case studies.